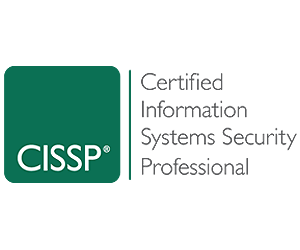 Certification for Information System Security Professional (CISSP) is a vendor-neutral certification, reflecting the qualifications of information security professionals, with an objective measurement of capabilities.
CISSP certification means that the information security professional demonstrates a working knowledge of information security, confirms commitment to the profession, and establishes a standard of best practice.
STANDARDS AND CISSP CERTIFICATION
The Certified Information Systems Security Professional (CISSP) certification is accredited by the ANSI (American National Standards Institute) under ISO (International Organization for Standardization) 17024: 2003. The CISSP exam consists of 250 multiple-choice questions, covering topics as access control systems, cryptography and security management practices, and is administered by the International Information Systems Security Certification Consortium or (ISC) 2.
CISSP CONCENTRATION
With the continuous evolution of information security, (ISC) 2 offers concentrated credentials, called CISSP Concentrations. Passing a CISSP concentration exam demonstrates that the information security professional has proven capabilities and subject matter expertise beyond what is required for the CISSP credential. They are available in the following areas:
Architecture (CISSP-ISSAP)
Engineering (CISSP-ISSEP)
Management (CISSP-ISSMP)
The (ISC) 2 promotes the CISSP as an aid in evaluating personnel performing information security functions. Certification was first made available in 1989.
At Solutecsa we have several professionals with CISSP certification.