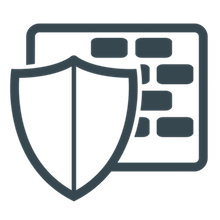 Information security, sometimes abbreviated as infosec, is a set of practices designed to keep data safe against threats of unauthorized access, both when the data is stored and when it is transmitted from one machine or physical location to another.
As knowledge has become one of the most important assets of the 21st century, efforts to keep information safe have become increasingly important.
We offer you different IT security solutions to protect one of your most valuable assets, information / data.
Sale of SOPHOS firewalls, as well as configuration, installation and technical support.
BARRACUDA NETWORKS
We are a Barracuda Networks representative for Panama and we are certified by Barracuda Networks to provide technical support to teams and renew user licenses.
A vulnerability is any error or weakness in a system's security procedures, design, implementation, or any internal control that may result in a violation of the system's security policy. Vulnerability testing is a process of assessing security risks in software systems to reduce the likelihood of threats. The purpose of vulnerability testing is to reduce the possibility of intruders / hackers gaining unauthorized access to systems.
Panda antivirus is known for its robust virus protection, fast scanning, ease of use, and durability in the market.
Work-at-Home biometric two step authenticacion solution which utilizes dual biometric authentication for secure remote access to applications and documents, restricted exclusively to the intended & authorized recipient
ENCRYPTION
Protect your information using the latest encryption methods on the market, from your emails to your computer's entire hard drive.
Our encryption service includes: emails, folders on a hard drive and full hard drive.
We offer the creation, installation and configuration of digital certificates for web, email and app servers.